A Rare Opportunity to Brew 200 Gallons of Belgian Tripel
February 20, 2005 at 3:25pm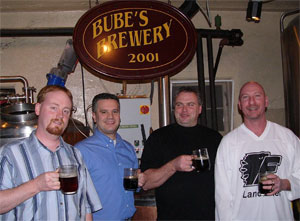 Have you every dreamed about what it is like to man the controls of a large scale brewery? Dreaming is as far as most home brewers will ever get, but this article is the story of two home brewers who were given this rare privilege.
Doug Binkley and Tim McMullen have been brewing beer for the better part of a decade. In 2002, the team of brothers-in-law took over the reigns as head brewers at the former Mount Joy Brewery now known as Bube's Brewery in Mount Joy, PA. Their insight and talent were just the mentoring spirit Tony and I were looking for when we began brewing together in nearby Marietta, PA. Late in 2003 I moved into the neighborhood and began brewing beer again at my new home after a year hiatus. I was accustomed to partial mash beers two to three times a year before moving to Marietta. Tony and I met late one fateful night during hurricane Isabel as we were outside at 0300 checking to see if our roofs were still attached to our new homes. Not long after, I was brewing in my garage on a Sunday afternoon. Tony was intrigued by the steam rolling out of the garage and came over to see what it was all about.
Within a month, we had brewed a Stout and an ale together. The neighbors started coming over and helping with quality control. After realizing we needed to brew more beer to keep the neighbors happy and cut costs, we went to see the experts at Bube's. Doug and Tim were happy to give any advice they could to fledgling brewers. We soon decided that all grain brewing was our next step. Since then, we have produced
Iroquois Pale ale
, Blueberry Heffe, Porter-Porter, Pineapple Porter,
Scotsman's Blue Ribbon
, Meade,
Canoy Creek Celebration Pale Ale
, Hard Cider and couple of wines.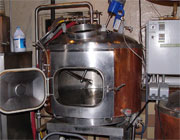 After getting to know Doug and Tim quite well and more or less begging them to allow us to help make beer at Bube's, they finally allowed us to take over the reigns for a Saturday brewing session. Doug and Tim needed to teach an all grain brewing class on Nov. 20th 2004. They also needed to make a batch of beer that same day. Doug asked us if we would be interested in taking over the brewery for a day. We are not sure Doug appreciated the tears of joy and bear hugs we immediately bestowed upon him. Needless to say we screamed yes before he had an opportunity to change his mind.
In addition to allowing us to brew, we were given the opportunity to choose the beer style. Never being ones to do anything half way, we settled upon a Belgian Tripel. This was met with much enthusiasm since Tim was longing to make a Belgian style for some time. We started getting excited when a 66 lb. box of candy sugar was delivered to the brewery one afternoon. As our big day drew closer, Tony and I did a lot of online research on Belgian style beers and used our Gold Membership at BeerTools.com to formulate the recipe. There was one problem. We had never brewed on a 200-gallon scale before. The equipment at the brewery was a bit different than the kettles and re-tooled water coolers we were accustomed to in my garage.
It was obvious that the upcoming brewing event would require us to receive some professional training. As luck would have it, both the brewers and ourselves wanted to produce Pumpkin Ale for the fall. Therefore, we decided to move production into the brewery. This gave Tony and I the opportunity to "learn the ropes" of larger scale brewing. The Pumpkin Ale was a great success. The brew sold out in about two weeks. At this point Tony and I gained the confidence we needed to fulfill our dream of brewing on a microbrew scale.
After much anticipation and visions similar to "sugar plums dancing in our heads" brew day finally arrived. Starting at 0430 on November 20, 2004, we were weighing out grains and filling up the mash tun to brew the first of two batches necessary to fill the 200-gallon fermenter. Our 0500 breakfast consisted of Krispy Kreme doughnuts and Chimay Special Reserve. Hey…it was noon somewhere in the world! Tony and I figured that we should sample what a Belgian style should be to benchmark our efforts.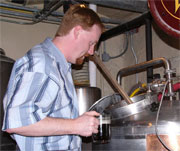 Somewhere around 0600, our first batch was "doughed in". Meanwhile, we were still happily consuming doughnuts and Chimay. No time is wasted at Bube's Brewery on a brew day. Therefore, it was time for us to measure and crack the grain for the second batch. At this point, we were also hooking up the "monkey" as Doug calls it. This process consists of attaching and connecting the plumbing and pumps necessary for moving brew liquor over to the brew kettle.
Mashing took about an hour. The next step was to transfer the nectar to the brew kettle. The aroma was amazing. We fired up the steam on the brew kettle and added 33lb of Belgian candy sugar. Tony and I procured a few pieces of the sugar crystals for quality control. At this point Tony and I were already prognosticating an incredible brew. I felt as though I could taste the finished product already.
Doug and Tim like to employ a 90-minute boil. Therefore, our first hop add was 30 minutes into the boil cycle. The Saaz hops exuded an intense aroma that could be savored all through the Bube's complex. Tony and I were used to an ounce of EKG here or two ounces of Hallertau there. The Belgian took hops measured by pound, not the ounce. This is when I realized the "gravity" of what we were doing here.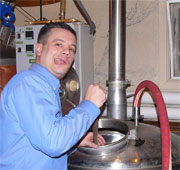 Tony remembered the last words he heard from his wife before leaving home that morning at 0400 "How much is this gonna cost if you screw it up?"
We did not screw it up. In fact, Doug and Tim told us we were doing great at this point. We were right on schedule. Not bad for a couple of garage brewers! By now the homebrew class upstairs was starting to wonder who was at the helm of the big brewing operation. One by one, they straggled downstairs and poked their heads in like prairie dogs. Tony and I were strutting around like we owned the place. The restaurant wait staff was also wondering who these strange guys were that were fondling the brew equipment.
Doug, Tim, Tony and I placed bets on what the O.G. would be. After the boil, the first batch banged out a 1.096! The second batch was an acceptable 1.092. At an average of 1.094, we knew that we had entered the realm of "Big Beer". By 1530, we were sitting down to a nice meal at the restaurant and enjoying some of Doug and Tim's beer libations with some of the stragglers from the brew class.
Week by week, Doug and Tim consistently offered us samples of the brew we had made. With each passing week, Tony and I realized the potential of this Belgian Tripel.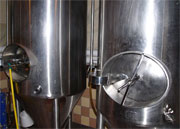 The hardest part of this adventure was waiting for the brew to go on tap. Tony and I are accustomed to drinking our garage-brewed beers quite young. Typically, we can't stand to wait more than 4 weeks to sample our brew, and then only because we still have a bit of the last left in the keg. Waiting until February seemed like an eternity to us. We think Doug and Tim are allowing us to sample small amounts from time to time in an attempt to keep us from going into some kind of metabolic shock.
Today is February 20th. About a month ago, Doug and Tim generously allowed Tony and I to bottle a few precious cases of a bottle-conditioned version of the Belgian. Since today was a brew day (Raspberry Coffee Stout), we felt it was momentous enough occasions to try one bottle. After all, rule #1 at our garage brewery is " When you brew beer…you drink beer!" How was our Belgian Tripel? Well…let's just say it would be worth your trip to Mount Joy, PA in a few short weeks when it is finally released for sale to the general public.