Brady's Belgian Wheat
May 21, 2003 at 11:30am
We were vacationing in Ireland last summer, enjoying the native version of Guinness stout at many different pubs. One evening, for a change of pace, we stopped in what's called an "off-premise" store for some brew to take up to our room in Dublin's fair city.
A lone bottle of Hoegaarden
Amid the many bottles of Harp and Kilkenney, we spied something we'd only heard of anecdotally, since it's not sold in the United States. It was a lone bottle of Hoegaarden, a white Belgian wheat beer we had heard was totally unique in its flavor. We snagged the puppy, along with a couple other Irish brews, and headed to our temporary digs in the Temple Bar district. The Hoegaarden poured into the glass soft and shimmering, with a voluminous head. The aroma was that of wheat, orange and spices. It is both sweet and sour, tart and dry, with spicy, citrus overtones. The glass was empty before we'd even begun to fully enjoy the myriad aromas and flavors.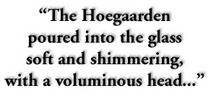 We couldn't stand the thought of never enjoying anything like this again -- there wasn't even another bottle at the off-premise store -- so we saved some of the yeast in the bottle, determined to culture it when we returned home to Phoenix, Ariz.
Yeast from across the pond
The precious yeast was packed gently in its original bottle in a carry-on bag. First thing when we returned, as Anne was unpacking, Richard set about bringing the dregs of yeast back to life. It was a long week of waiting until the airlock bubbled for the first time. There are Hoegaarden clone recipes available, but knowing what the real article tastes like and having read up on the ingredients the brewer uses, meant we needed to do some tweaking.
In place of all the wheat malt the clone books call for, we used flaked and raw wheat. This forced us to use rice hulls as a filter material to avoid a stuck sparge. We didn't use cumin seeds because they would have added a flavor that's not supposed to be there. We also fermented at a higher temperature than generally called for, which is necessary with Belgian ale yeast to achieve the best possible flavor. We aged this beer a month to be sure it was fully conditioned, although two weeks probably would be sufficient.
No airfare needed
The result was phenomenal. A co-worker who formerly lived in Belgium said it was even better than he remembered. Of course, there was one other tiny change we made on our own, substituting Munich malt for aromatic malt, to less accentuate the malt and allow the yeast to shine. Anne enjoys this beer for its clean, crisp refreshing qualities and notes that it's not necessary to add a lemon wedge for citrus flavor. Fortunately for everyone who can't go to Europe to snag some yeast, we later learned that White Labs carries a good Belgian wit ale yeast, WLP400, which works fine with this recipe.
View the recipe:
Brady's Belgian Wheat (All-Grain)