The Southend Brewery and Smokehouse, Charleston, SC
February 10, 2003 at 11:20pm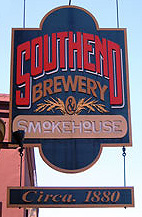 If you ever find yourself in Charleston, SC be sure to stop by the Southend Brewery and Smokehouse. Jeff and I were glad that we did. Like its fine crafted beer, Southend Brewery and Smokehouse must be experienced to be fully appreciated.
Southend Brewery and Smokehouse opened in Charleston on June 1, 1996. The Southend Brewery is located in what was once the Wagnar building a massive shipping and warehouse on the Charleston water front. When you walk into the building your eyes are drawn upward toward the three story high brewing enclosure. Dramatic blown glass lighting fixtures seem to float around the dinning room. The ambience is only a fore-gleam of what you will experience here at the Southend. With seven handcrafted beers on the menu, the hardest part is knowing where to start.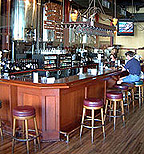 Here is the current list of beers they make.
Southend Blonde
, this signature ale for the Southend Brewery is smooth and light with a subtle hop finish.
Southend Blonde lite
- same clean crisp blonde only fewer calories.
Bombay Pale Ale
is a medium body ale with a full hop flavor and aroma.
East bay Brown
holds a rich malty flavor with a light body.
Oatmeal Stout
- An excellent meal of a stout, with a full rich and roasty body, made with flaked oats and 8 varieties of malted oats.
Scarlet
is a ruby red full flavored beer.
Ironman Wheat
has become a bit of a summer tradition in Charleston, with its unfiltered light body.
Seasonal beers
are also a part of the menu, so be sure to ask about them.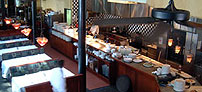 The folks at Southend understand a good pint of beer should never be far from a good meal. They keep a diverse menu of different regional American dishes with Southwestern and Coastal influences using a wood burning smoker, grill, and pizza oven. Local ingredients as well as seasonal specials enable them to offer fresh and unique seafood, salads, and pasta dishes.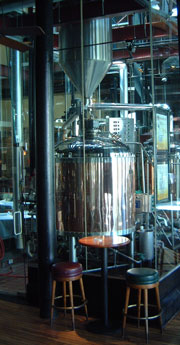 Southend Brewery and Smokehouse offers a rustic-but-upscale setting and live entertainment. The center of attention is a functional and beautiful "brewhouse" encased in glass. The brewmaster makes hundreds of gallons of beer a year keeping 5 fermenters and 6 serving tanks busy year round. You will enjoy the casual, relaxed atmosphere on warm spring and summer evenings with live acoustic music and their hand-crafted beer on their patio with a spectacular view of the Charleston Harbor. Don't take my word for it, the halls leading to the restrooms hold framed menus autographed by assorted sports stars and other celebrities, prominent race drivers, as well as famous stars like Rod Stewart, Michael Jordan, and James Worthy.
The next time you are in Charleston, SC make sure to stop and see our fellow brewers at The Southend Brewery. You can contact them at:
(843) 853-4677