The River Market Brewing Company in Kansas City, MO
April 9, 2003 at 5:25pm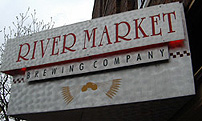 On a recent visit to downtown Kansas City, staff writer for BeerTools.com, Lathe Poland, discovered the River Market Brewing Company. This friendly little brewery is located directly across the street from The City Market, on the corner of 5th & Walnut.

When I walked in the door, I was welcomed by smiling faces and hundreds of ceramic beer mugs suspended above the bar. Once armed with the menu, I began the difficult task of deciding what to drink with my food. This usually challenging situation was made easier by the Beer Sampler option that River Market Brewing offers. For around $7, I could try six different handcrafted Ales (36 oz. total), brewed right on the premises. Sign me up! In the line-up was: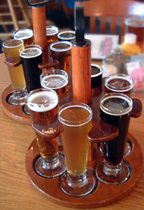 The
Blonde Bomber Ale
was a very drinkable light ale with a fresh, crisp flavor.
The
Sodbuster Pale Ale
had a light copper color and medium body. The use of four different European hops combine to give this smooth, highly quaffable ale a beautiful aroma and fresh taste.
The
River Market Red
bares a distinctive red hue, the result of three specialty caramel malts. the sweetness of the two-row malt, is countered by the addition of Perle, Willamette, and Cascade hops.
The
St. Arnolds Trapist Style Tripel
, has a light golden color and a sturdy medium body. The flavor finishes with banana and cloves. A serious beer at 9% alcohol content.
The
Flying Crow Porter
is a silky medium body porter. The roasty flavor is accented with a smooth coffee palette.
The
Black and Pale
is a harmonious marriage of the the
Flying Crow Porter
and the
St. Arnolds Trapist Style Tripel
.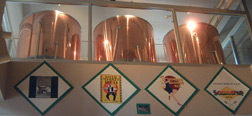 Once seated in the restaurant, I could see three 550 gallon copper, open fermentation secondaries in the loft above the bar. Keeping these secondaries busy is the job of head brewer, Chad Pratt. To do this, he uses a 780 gallon brew kettle, a 548 gallon mash-tun, and a 565 gallon uni-tank, The River Market Brewing Company brews about a 1,000 barrels a year. Mr. Pratt spends 5 days a week at RMBC, a good portion of this as any homebrewer knows is spent cleaning and transferring. The RMBC was opened in May of 1995, Mr. Pratt came on board two months later.
One of RMBC's obvious attractions is its knowledgeable and friendly staff. The delicious food was quick to arrive and very tasty! Manager, David George was helpful in guiding me though a menu that lists a good assortment of pub grub, with burgers, sandwiches, and salads. Adding to the brewery's charm is the fact that they have live music every Friday and Saturday night.
The next time you are in our country's "gateway to the West" make sure to stop and see our fellow brewers at RMBC. You can contact them at:
The River Market Brewing Company
500 Walnut
Kansas City, Missouri 64106
816-471-6300