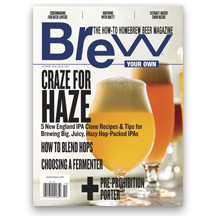 Brew Your Own Magazine 1 Year Subscription (for delivery to Canada)
BYO has regular columns including troubleshooting common problems with Mr. Wizard, brewing two great types of beer each issue in Style Calendar, homebrew recipes for your favorite commercial beers in The Replicator, refining your brewing with Techniques, building brewing gadgets in Projects and hearing tips, stories and recipes from fellow homebrewers in Homebrew Nation. Eight issues of BYO the world's most popular homebrewing magazine.
Choose this product for delivery to Canada.