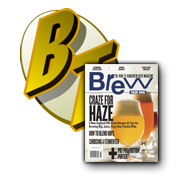 BeerTools.com 2 year GOLD membership 1 year Brew Your Own Magazine subscription bundle
The Power of BeerTools GOLD and Brew Your Own Magazine! These are the ultimate tools in your homebrewing toolbox.
Brew Your Own Magazine
BYO has regular columns including: troubleshooting common problems with
Mr. Wizard,
brewing two great types of beer each issue in
Style Calendar,
homebrew recipes for your favorite commercial beers in
The Replicator,
refining your brewing with
Techniques,
building brewing gadgets in
Projects
and hearing tips, stories and recipes from fellow homebrewers in
Homebrew Nation.
Eight issues of BYO
the world's most popular homebrewing magazine.
BeerTools GOLD
BeerTools GOLD is a subscription that upgrades your BeerTools.com account for enhanced web based tools and site usage. Additionally, GOLD members enjoy increased BeerTools Pro online recipe storage quotas.
Online Tools
Create recipes rapidly using just about any recipe here at BeerTools.com as a starting point. Simply view the recipe you are interested in and click the special link on the recipe detail page (only available to GOLD membership users) to load the recipe in the Recipe Calculator.
Across the board you receive the capacity for more ingredients. The Recipe Generator, Recipe Calculator and Finished Analysis all allow the use of 11 grains, 4 extracts, 6 adjuncts, 7 hops, 3 dry hops, and 5 special; go ahead load it up, it can handle it!
Other features include a Recipe Calculator zeroing function, and scaling function. Pick any combination of seven famous utilization algorithms. Store up to 250 of your personal recipes here at BeerTools.com for instant access to them each time you return.
BeerTools Pro Integration
If you own a copy of BeerTools Pro, your GOLD membership increases your online recipe storage quota. Depending on recipe size, over 2,000 recipes can be stored and shared on the BTP Connect server with your BeerTools.com GOLD membership.
Within BeerTools Pro you have access to your personal, favorite and library recipes saved in My BeerTools. Because BeerTools GOLD increases these quotas you have a wealth of recipe ideas at your fingertips.