Moderator: slothrob
Just want to get the consensus of the great brewers on this site about their preference when it comes to sparging. Specifically as it pertains to mash efficiency. Which collects the most sugars, a nice slow fly sparge (.5 to 1qt per minute) or a batch sparge?

Palmer's book says it is a fly sparge, but in my reading on this site (and others) it seems that batch sparging is used much more frequently.

As always thanks so much for your help!!!
JG
Just trying to find the perfect batch!!!
Pale Ale

Posts: 72
Joined: Wed Feb 04, 2009 12:34 am
Location: Sacramento CA
---
You can get very high efficiencies from either method.

Getting those high efficiencies requires, in both cases, an optimized system, but 75% or more should be easily obtainable once the bugs are worked out, in either case. Both methods will tend to top out around 90%.

In a lot of ways, the method you choose should depend on the equipment you use, how it's set up, and which seems easiest for you to manage.

For example, if you don't have a mash tun manifold designed to draw wort evenly from the grain bed, then you shouldn't be choosing to fly sparge, or your efficiency will suffer and you will tend to extract tannins.

On the other hand, some people find the need to measure water volumes with some accuracy to be a difficulty with batch sparging, and prefer to just let water run until they hit their pre-boil volume, as is possible when fly sparging.

The strong dependency of batch sparging efficiency on a good grain crush really favors a brewer that owns their own mill, but otherwise, it can be the simplest way to get started in AG, simply because it can work with most any mash tun and doesn't require any other equipment, other than a pot or 2. That's probably why it is such a commonly used technique among homebrewers.
BTP v2.0.* Windows XP
Moderator

Posts: 1834
Joined: Mon Apr 10, 2006 1:36 pm
Location: Greater Boston
---
well the AG cooler system i just bought has a all the stuff to fly sparge and a very nice false bottom
http://morebeer.com/view_product/15631/ ... ain_System
so i think i will go that way to start and see how it goes, if i have any efficency issues or find that my false bottom is not sealing like it should i may try the batch sparging route.
is the .5-1qt per minute collection rate about the right speed to fly sparge?
As always SlothRob, you are a wealth of info, thanks so much!!!
JG
Just trying to find the perfect batch!!!
Pale Ale

Posts: 72
Joined: Wed Feb 04, 2009 12:34 am
Location: Sacramento CA
---
I do own my own mill and batch sparge with double ss braid in a square cooler. It keeps everything simple. I pull low 80% efficiency every time. If I under guestimate the quantity of water in my second mash... I do sparge to get my pre-boil volume.
Regards,
James
http://www.clarksvillecarboys.com/
Strong Ale

Posts: 382
Joined: Thu Jan 13, 2005 9:47 pm
Location: Clarksville, TN
---
I just recently switched to batch sparging. I find it faster and easier than fly. I have a nice manifold design, but for some reason, I was only pulling 60% eff. out of fly sparging. Since I've switched to batch, I'm hitting mid-high 70's.
Primary - Belgian Dubbel, Belgian IPA
Secondary - Cherry Lambic
Bottled - Bourbon Barrel Coffee Porter, Double Chocolate Raspberry Stout, Imperial Nut Brown, Apfelwein, American Amber Ale w/Homegrown Hops, Breakfast Stout
Kegged - Bass Clone, ESB
Double IPA

Posts: 223
Joined: Sun Oct 26, 2008 12:39 am
Location: Rockford, Illinois
---
I have been brewing for over 40 years and I almost always batch sparge. The issue of mash efficiency often has nothing to do with the type sparge. Too many brewers take recipes as gospel. If the recipe sys mash for 60 minutes, that's what they do. I ignore the mash times in recipes. I firmly believe that you should mash to conversion. A cheap bottle of iodine from your drug store will provide years of wort testing. I usually start testing the wort at 60 minutes and then re-test every 15 minutes until all of the starches are converted. Sometimes this means 2 to 3 hour mashes. Normally it takes about 90 to 100 minutes. I produce prize winning brews and my grain bills are lower than most of my friends. Patience is always rewarded when brewing.
Mike
Posts: 9
Joined: Tue Jun 03, 2008 3:15 pm
Location: Allen Park, MI
---
That's a very good point about conversion. My experience has also been that a lot of home brewers don't get full conversion.
The following chart (courtesy of Kai Troester and Braukaiser.com) is another way to determine if you get full conversion based on the gravity of the wort during the mash and the mash thickness. Your gravity should approach the gravity indicated by your mash thickness when conversion is complete.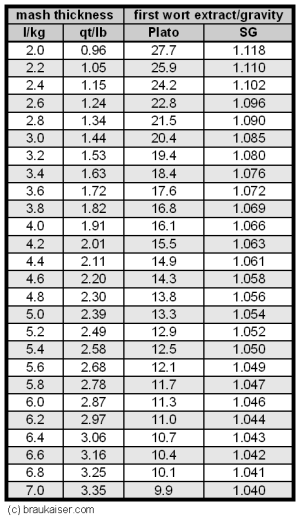 BTP v2.0.* Windows XP
Moderator

Posts: 1834
Joined: Mon Apr 10, 2006 1:36 pm
Location: Greater Boston
---
just a word about fly sparging.
we used to read here and there not to touch the grain bed (the "cake")
during sparging.
experiences show that even during a fly sparging,
agitating the grains BUT leaving ~2 inches of untouched grains
near the filter system helps increase our efficiency,
and of course compared with the quality of the crush,
is a good point to achieve 90% + levels.
one thing to notice : you'll see that even with this method,
after agitating the "cake" (crushed grains bed),
the coming out wort is still clear and do not need to be recirculated.
Light Lager

Posts: 16
Joined: Fri Apr 04, 2003 8:31 am
Location: Paris France
---
---
Return to Techniques, Methods, Tips & How To
Who is online
Users browsing this forum: No registered users and 3 guests