Moderator: slothrob
---
Strong Ale

Posts: 349
Joined: Sat Dec 08, 2007 9:02 pm
Location: North Carolina
---
---
I've started leaving mine in the fermenter for 3 weeks and I can notice a definite change. I think it has improved the flavor of my beer. I've never used a secondary, so I can't really compare the two. I don't use a secondary because that's just one less thing I have to do and I don't think it's really necessary either.

When you use a bottling bucket as your fermenter, what do you do when you rack to your keg? Do you filter it or just let the trub at the bottom run out the spigot till it's clear or what?
Strong Ale

Posts: 349
Joined: Sat Dec 08, 2007 9:02 pm
Location: North Carolina
---
I have done it 2 ways, I have used the valve at the bottom and also used my auto-syphon. Both times I put a muslim grain/dry hop bag at the end going into the keg. The syphon worked better, less debris because I could keep it away from the trub.

I also use a grain sack on brew day after I cool my wort and syphon it into the fermenter.
Posts: 9
Joined: Sat Mar 15, 2008 8:10 pm
Location: Dupont, WA
---
I paid like $20 bucks for this for my motorcycle and it makes the best stand I have ever found for cleaning and draing my carboys.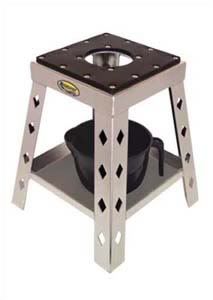 as an aside, I tried the plastic bucket thing when I first started, but I never felt good about it (personal preference). I now have 14 carboys, 4 Stainless Steel V bottom heated and cooled 20 gallon fermentors and one 40 gallon SS fermentor I got from a closing Dairy farm.
I understand the whole cost/safety thing, and when I first started Homebrewing, I really didnt want to use the Glass carboys........but after using the bucket just one time, I just couldnt make myself do it again. I didnt have any problems with the beer, I just felt better with the Glass. JM .02[/img]
Homebrewing since 1998!
Pale Ale

Posts: 59
Joined: Thu Jul 19, 2007 2:05 pm
---
---
Got one originally. 1st batch of beer it did this and we didn't catch it.

The only thing I'll use an ALE PAIL for now is mixing my wort and priming sugar before bottling (also allows me to get rid of most of the trub and leftover hops before bottling). They're great for that!

I've brought some new brewers in, and they always see those in the store, all nice and packaged up with everything and want one. I always have to talk them out of it.
Addrienne
Light Lager

Posts: 14
Joined: Thu Dec 18, 2008 10:49 am
Location: Phoenix, AZ
---
I see no problems with these pails at all. They are a bit expensive, but for someone who doesn't want to invest a lot of money into a hobby they're not quite sure about...it's a great start. I still use them every once in awhile. The only benifit of glass over buckets it that you don't have to replace it everytime it scratches.

But...nobody likes having a busted carboy either. I was forced to move into my garage when I busted a full carboy on the basement floor. I was more upset about the wasted beer than I was the carpet.
Primary - Belgian Dubbel, Belgian IPA
Secondary - Cherry Lambic
Bottled - Bourbon Barrel Coffee Porter, Double Chocolate Raspberry Stout, Imperial Nut Brown, Apfelwein, American Amber Ale w/Homegrown Hops, Breakfast Stout
Kegged - Bass Clone, ESB
Double IPA

Posts: 223
Joined: Sun Oct 26, 2008 12:39 am
Location: Rockford, Illinois
---
Just be glad you weren't hurt. You wouldn't have been the first person to be sent to the hospital by a broken glass carboy.

A lot of brewers are switching back to plastic buckets for safety's sake. The fact that they sometimes aren't perfectly airtight doesn't really matter.
BTP v2.0.* Windows XP
Moderator

Posts: 1834
Joined: Mon Apr 10, 2006 1:36 pm
Location: Greater Boston
---
I've bought a couple of those better bottles. Much lighter than the old glass carboys that's for sure. Soak in a little PBW after fermentation and come up clean every time with minimal (no) effort.

I've had back surgery a few years ago so I'm trying to move away from the glass carboys. The better bottles have been working great, especially couped with one of those brew haulers.

The only time I use a secondary is for lager or dry hopping.

Later,
Jaw

PS. Nothing wrong with the ale pails, I started with those.
iMac 27", 3.4 GHz Intel Core i5, 8GB Ram, Mac OSX 10.12.6
iPhone 7+
iPad Pro 10.5
I like macs
Imperial Stout

Posts: 530
Joined: Fri Oct 27, 2006 1:43 pm
Location: W. Dundee
---
I also purchased one of the better bottles too. They are relatively the same price, within a few bucks nothing major. It seems to be doing fine. But for the most part of my brewing I use the buckets for fermentation.
"B"
Double IPA

Posts: 139
Joined: Thu Nov 22, 2007 12:05 am
Location: Tenino, WA
---
So, I take it the better bottles are pretty good afterall? My LHBS doesn't even stock them because the owner thinks they're junk.

I haven't heard anything bad about them yet, so I was just wondering what everyone on here was thinking. Wouldn't you have the same problems with a better bottle that you would with a bucket?
Primary - Belgian Dubbel, Belgian IPA
Secondary - Cherry Lambic
Bottled - Bourbon Barrel Coffee Porter, Double Chocolate Raspberry Stout, Imperial Nut Brown, Apfelwein, American Amber Ale w/Homegrown Hops, Breakfast Stout
Kegged - Bass Clone, ESB
Double IPA

Posts: 223
Joined: Sun Oct 26, 2008 12:39 am
Location: Rockford, Illinois
---
---
Who is online
Users browsing this forum: No registered users and 10 guests