I had posted this a while ago and didn't really get a solid answer, so I thought I'd post it again in a different way. I got my Ward Lab report a couple months ago and tried to enter the data into BTP. Whenever I try to input the individual values, the following ones input correctly:
pH
Ca++
Mg++
CaCO
Na+
Cl-
But when I try to input the HCO3-, CO3-- and CaCO, it won't let me input what's in the report. I enter "113" for HC03-, but then when I enter "15" for CO3--, it changes my HCO3- value to "144." From there, when I enter "65" for my CaCO, it changes HCO3- to "62" and CO3-- to "6."
I know absolutely nothing about water chemistry, so I'm not sure if this is a bug in the program or if Ward gave me incorrect results. I'd really like to get to the bottom of it so I know if I need to move to another program before I shell out money for the upgrade to BTP 2 or if I need to call Ward and have them redo the test. I know that it says that water chemistry fixes were implemented in the new release.
Here's a link to a screen recording showing exactly what's going on. It does this both in BTP 1.5.24 and in 2.0.3.
https://www.youtube.com/watch?v=fC0DBSBu54Q
Light Lager

Posts: 12
Joined: Mon Nov 08, 2010 4:20 pm
---
can put all the values up from your ward lab report
iMac 27", 3.4 GHz Intel Core i5, 8GB Ram, Mac OSX 10.12.6
iPhone 7+
iPad Pro 10.5
I like macs
Imperial Stout

Posts: 530
Joined: Fri Oct 27, 2006 1:43 pm
Location: W. Dundee
---
They're all there on the video link and with me inputing them into BTP only to have values change automatically.
Here they area again, though.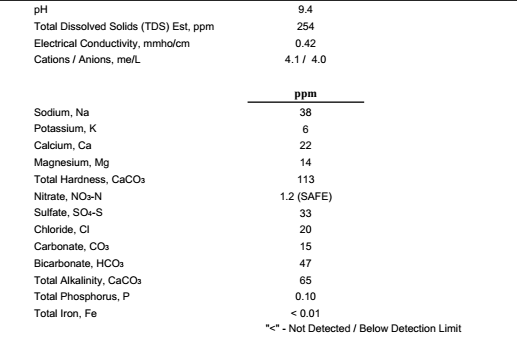 Light Lager

Posts: 12
Joined: Mon Nov 08, 2010 4:20 pm
---
Light Lager

Posts: 12
Joined: Mon Nov 08, 2010 4:20 pm
---
The problem seems to be that the water report doesn't result in balanced anions and cations. I've checked your numbers in some other water calculators, and the problem is the same with each of them. This might be the result of slight errors in the different assays used to determine the individual values.

Personally, I'd go with the values that are calculated when you enter the Alkalinity measurements. Arguably, Alkalinity is what you are most concerned with and the numbers that result from that seem to give you the best ionic balance and agree best with the other values you have.
BTP v2.0.* Windows XP
Moderator

Posts: 1834
Joined: Mon Apr 10, 2006 1:36 pm
Location: Greater Boston
---
---
Return to BeerTools Pro General Topics
Who is online
Users browsing this forum: No registered users and 5 guests