Can someone explain to me how to use this feature? I found the water profile I want, but how to I get the program to tell what to add to my water to duplicate the profile, i.e. how much gympsum, epson salt and so on.
Michael A.
Posts: 1
Joined: Sun Nov 20, 2011 12:33 pm
---
The Water Calculator won't tell you what to add, you need to adjust the levels of Gypsum, Calcium Chloride and Chalk within the calculator until you reach your desired profile.
BTP v2.0.* Windows XP
Moderator

Posts: 1834
Joined: Mon Apr 10, 2006 1:36 pm
Location: Greater Boston
---
I just got my water report and am having some trouble inputting it into BTP.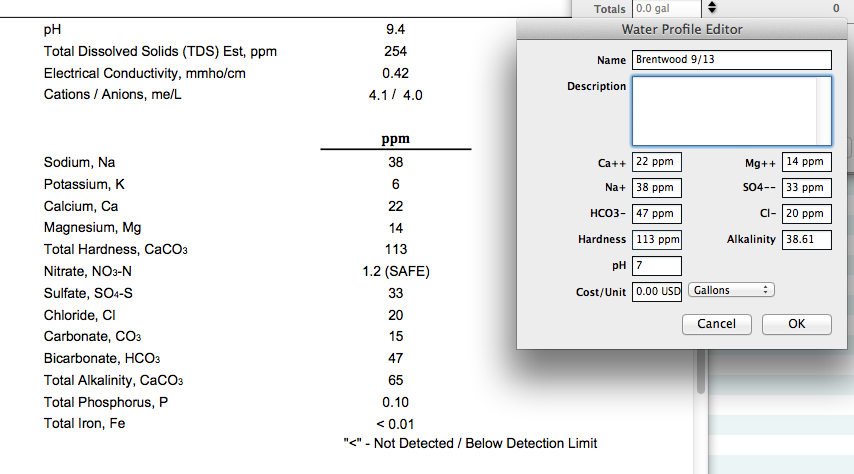 When I input the data from the report, BTP automatically adjusts the Hardness and Alkalinity, but while the Hardness value lines up with what's in the report, the Alkalinity is way off (38.69 vs 65). When I change the Alkalinity to 65, it changes the Bicarbonate to 53. Any ideas on this? The report was the "beer analysis" report from Ward Labs.
Light Lager

Posts: 12
Joined: Mon Nov 08, 2010 4:20 pm
---
That's an interesting report because at pH 9.4 I believe the carbo species distribution should be:

H2CO3 = 0.09%
HCO3 = 90.35%
CO3 = 9.56%

If the HCO3- measurement is correct I would think that CO3-- would be closer to 5. Does that sound right?
Jeff
BeerTools.com Staff
Imperial Stout

Posts: 1494
Joined: Sun Jan 09, 2000 9:16 pm
Location: Hollywood, SC
---
Jeff- You're right, the bicarb and carbonate levels are out of balance at that pH.

It does look like there are probably some number of minor measurement errors in that report that add up to the values not being in balance. You could try contacting the lab and asking for more information, but there's a good chance that it is simply an accumulation of small inaccuracies inherent in the assays used to measure these values.

Martin Brungard, a well regarded water expert, recommends using the alkalinity values to adjust the bicarbonate level when these numbers are out of balance on the report. Incidentally, 52-53 ppm bicarb results in a better anion-cation balance than 47, indicating that this is the more realistic value. This is a relatively small error that shouldn't make much difference in your brewing.

One other point: Sulfate is reported as SO4-S, which is the quantity of sulfur, not sulfate. That value needs to be multiplied times 3 to get your SO4-- level. So, your's is 99 ppm, not 33 ppm.
BTP v2.0.* Windows XP
Moderator

Posts: 1834
Joined: Mon Apr 10, 2006 1:36 pm
Location: Greater Boston
---
Thanks for the help, guys.
So I tried correcting the numbers as such: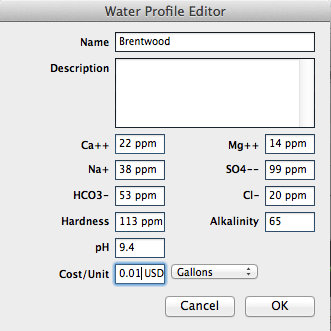 I save it and add it to my inventory, but then when I go to look at it, the numbers have changed, and it looks like this: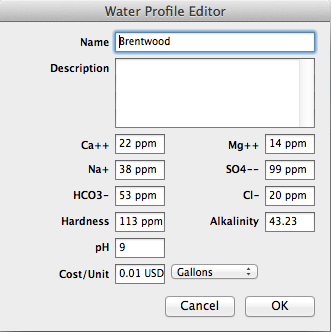 Both the alkalinity and the pH have changed. Any ideas on how to fix this?
Also (and keep in mind I'm completely new to water chemistry), I currently use 5.2 stabilizer in my mash and sparge water. I'm assuming that I wouldn't use that anymore when I'm adjusting the chemistry before I mash and sparge but that if I just want to do something simple like add a little gypsum to the boil I would still use it?
Light Lager

Posts: 12
Joined: Mon Nov 08, 2010 4:20 pm
---
Good and bad news

Jeff has fixed this in the new version which is to be released later on this month.

But unfortunately you will have to live with the errors on version 1.5 for the next few weeks...
Double IPA

Posts: 152
Joined: Thu Feb 15, 2007 5:09 am
Location: New Zealand
---
Any idea on when this update is going to be released? I only ask because you said by the end of the month, and we're closing in...
Light Lager

Posts: 12
Joined: Mon Nov 08, 2010 4:20 pm
---
---
Return to BeerTools Pro General Topics
Who is online
Users browsing this forum: No registered users and 2 guests