I'm having trouble with BeerBot's hop utilization calculations. Here's what it looks like.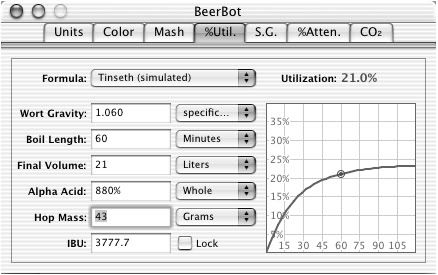 Notice the alpha % -- that's not what I typed. I typed 8.8%, but when I hit either return or tab, it jumps to 880%. I can go back and manually put in the dot, but it's a pain in the butt to do that every time. I get it periodically with different settings, different calculation methods, etc. I also get weirdness sometimes when I type 5.5% (for example), and when I hit tab or return, it changes to 5%. Both problems happen on different machines: (1) eMac running 10.2.8; (2) iMac (flat screen) running 10.3.9. I haven't tried it yet on 10.4, but will when I get a chance.
Is anyone else having this trouble? Should I download again and reinstall? Should I give up and ask for my money back?