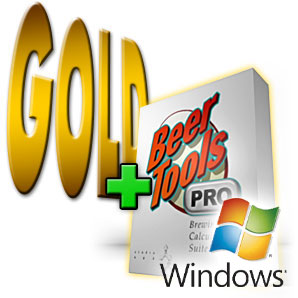 BeerTools Pro 1.5 for Windows Software Download and 1 Year GOLD Membership
| | |
| --- | --- |
| Product number: | P-294 |
| Status: | In Stock |
$34.95
With this promotion you save $9.95! You get the power of BeerTools.com
GOLD
and
BeerTools Pro
in one package. These are the ultimate tools for your homebrewing toolbox. Recipe formulation, mash scheduling and a huge ingredient database are just the beginning! BeerTools Pro brings brewing software to a whole new level. And combined with BeerTools.com GOLD, you receive the maximum access to recipes on BeerTools.com directly from BeerTools Pro.
Read more…
BeerTools Pro is powerful enough for professionals yet simple enough for home brewers just starting out. Use it for formulating recipes, calibrating equipment, arranging mashing schedules, calculating carbonation, designing hop utilization algorithms, comparing style, calculating calories, aligning water profiles and much more.
BeerTools Pro is the only beer brewing application that can connect directly to the BeerTools.com Recipe Library. You have access to thousands of beer recipes, and you can download them with just a few clicks! Your GOLD membership will give you special access to download more than the default 5 recipes. BeerTools Pro comes with access to over 10,000 recipes from the BeerTools.com website interface, allowing direct transfer of 5 recipes per month from BeerTools.com to BeerTools Pro for free, or alternatively 50 recipe transfers from BeerTools.com to BeerTools Pro with our GOLD membership (Internet connection required to download recipes).
BeerTools Pro can open other popular recipe formats so you don't have to enter all of your recipe data twice. This way, BeerTools Pro can be your primary brewing application or an integral part of your recipe formulation workflow.
BeerTools Pro can open popular recipe formats so you don't have to enter all of your recipe data twice. This way, BeerTools Pro can be your primary brewing application or an integral part of your recipe formulation workflow.
Read more…
Want to see BeerTools Pro in action? We have prepared a brief quick start video:
What Is Different in version 1.5?
The interface has experienced numerous improvements that make working with BTP easier than ever. One example is how 1.5 handles units of measure. BTP 1.0 combined a text field and a popup menu to store a value and its corresponding unit of measure. This was a very flexible way to handle units, but 1.5 greatly improves on it by eliminating the units popup menu. How are units entered now? One way is to type the unit abbreviation after the value. If the abbreviation is omitted the current unit is used. Additionally, unit conversions can be done even easier now. Simply right-click on the value and a menu with list all of the possible conversions appears. Converting the value is just a matter of selecting from the list! To match the power of the new method of unit conversion, we have implemented a few more enhancements:
• New toolbar with buttons for managing recipe files, folders, and printing
• New assets library for storing recipes, ingredients, equipment and other items just a mouse-click away.
• Contents list for displaying the contents of assets folders
• New info panel for immediate access to recipe and ingredient specifics including detailed descriptions and analysis data
• Values can be edited directly in the ingredient, equipment, and other lists
• Fully drag-n-drop capable for moving ingredients in and out of recipes
• The graphs next to fermentables and hops can be dragged to change their respective ingredient proportions
• Recipe management within BeerTools Pro
• Inventory tracking, comparison and recipe deduction
• New dilution tool
• Demo version licenses
The
GOLD
membership allows you to create recipes rapidly and you can use any recipe here at BeerTools.com as a starting point. Simply view the recipe you are interested in and click the special link on that recipe page (only available to GOLD membership users) to load that recipe in the Recipe Calculator.
Across the board you receive the capacity for more ingredients. The Recipe Generator, Recipe Calculator and Finished Analysis all allow the use of 11 grains, 4 extracts, 6 adjuncts, 7 hops, 3 dry hops, 5 special ingredients; go ahead load it up, it can handle it!
Other features include a Recipe Calculator zeroing function, scaling function. Pick any combination of seven famous utilization algorithms. Your saved recipes will still be here and you can load them into the Recipe Calculator instantly. You can also get a quick view pop-up window to view your beer's characteristics while you're still working in the Recipe Calculator form. That way you don?t have to actually hit the calculate button each time you want to see how close you are getting to your chosen style. When you calculate your results, take advantage of the powerful Recipe Zapomatic correction tool. The Zapomatic lets you pull your recipe into compliance with style guidelines with one click!
Take advantage of the
BeerTools Pro
and
GOLD
bundle today, and you will be up and running in minutes. You will receive your unlocking license key immediately upon checkout.
Download size is 15.57 mb
BeerTools Pro Requirements
Windows XP/Vista, and 512MB of RAM or more.
BeerTools.com GOLD Membership Requirements
JavaScript and Cookies enabled
---
Related Products