BYO ½ PRICE SALE!
Save 50% On Brew Your Own Magazine*
* Promotion is for annual print subscriptions of Brew Your Own Magazine with delivery to North America locations.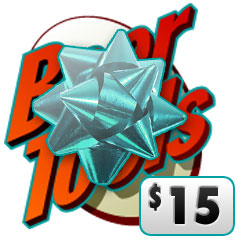 $15 Gift Certificate
A great gift for the home brewer in your life! BeerTools.com gift certificates can be used on anything in the BeerTools.com store. You can print and deliver the gift certificate coupon yourself, or you can provide the recipient email address for immediate delivery to their inbox. If the recipient can't use the whole gift on one purchase, their BeerTools.com account is credited with the difference.